As soon as you are registered at ENSAE Paris, we advise you to do your research as soon as possible. You will find below several options and advice on the different housing options (student residences, shared housing, intergenerational housing, housing search tools) and some practical information on housing assistance.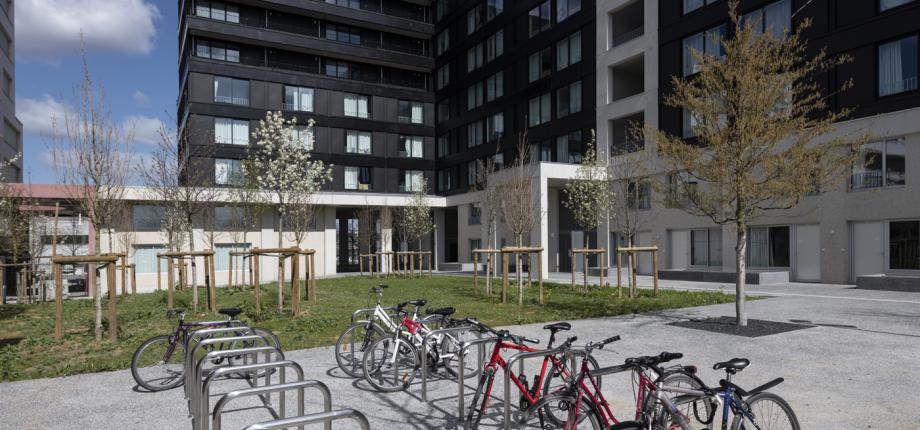 Student residences 
If you are enrolling for the first time at ENSAE and you are a 1st or 2nd year student (priority to international students). 
The Guichet Unique Paris-Saclay (GUPS)
The housing application for all students of the Plateau de Saclay, including ENSAE Paris, is made via the "guichet unique". This organization, run by the CROUS of Versailles, groups together the housing offers of the various landlords (owners) who have one or more student residences on or near the Plateau de Saclay. The districts concerned are :
 
Social housing
Private housing
Ecole Polytechnique area

Résidence Jean d'Ormesson (CROUS)
Résidence ALJT
Résidence Arpej « Alexandre Manceau »

Résidence All Suites Study Paris-Saclay

Moulon area

Résidence George Sand (CROUS)
Résidence IV (Césal)
Résidence Eileen Gray (CROUS)

Résidence Twenty campus
Résidence Le Mail
Résidence Joliot Curie Cesal
In order to respect the principle of equity in the allocation of housing, priority criteria specific to each institution have been defined. For ENSAE Paris :
Priority is given to first-year engineering students and first-time international students to obtain a room or studio on campus.
In the second and third years, priority is given to students with scholarships and to international students hosted on campus as part of their academic exchanges.
Applications are not subject to the DSE (Dossier Social Étudiant), however, social housing is given priority to scholarship students. 
To make your request, you must connect to the Paris-Saclay housing portal:
Step 1: I finalize my administrative registration with the school;
Step 2: I connect to the GUPS website and I check that the school I am registering in (ENSAE Paris) is present in the list;
Step 3: I consult the available offers in residences referenced on the site (social housing and private housing) and register my choices;
Step 4 : I confirm that I am registered at ENSAE Paris and definitively validate a list of 3 housing wishes on the one-stop shop;
Step 5 : I am informed by e-mail of the acceptance or refusal of my request;
Step 6: I take the necessary steps with the residence that has been assigned to me.
The "guichet unique" is only a tool to search for housing, the contractual part of your reservation will be done on the website of the landlord of the residence you have chosen.
The final allocation of your accommodation will only be effective once the lease (rental contract) has been signed.
This housing application must be renewed every year.
Please note: if you leave your accommodation during the year, before the end of the lease, you will not be able to use the one-stop shop. Therefore, a new application will not be considered as a priority.
Other residences are available outside the GUPS and open to all:
Residence partner " ECLA CAMPUS " (places reserved for ENSAE) - Massy
Within the framework of a partnership, students from the schools of the Institut Polytechnique de Paris (IP Paris), including ENSAE Paris, have priority for the allocation of housing in the ECLA residence.
Priority is given to ERASMUS students, Specialized Masters students and 3rd year students of the ENSAE engineering cycle.
20/25 minutes by bus from ENSAE (10 minutes walk from bus stop 91.06 - stop at Massy Palaiseau station - then 10/15 minutes by bus to the school)
10/15 minutes by car to ENSAE
30 min from the center of Paris
8 min walk from the TGV and RER Massy Palaiseau train station
You can contact the Student Life Center to get in touch with us vie-etudiante@ensae.fr
Download the ECLA brochure
More information on the website
List of student residences outside the GUPS
Palaiseau
Massy
Quartier du Moulon
Orsay
Les Ulis
Antony
Châtenay-Malabry 
Paris
Studapart platform dedicated to ENSAE Paris students
Access to Studapart, the accommodation search platform dedicated to ENSAE Paris students. Use our online housing platform to book your accommodation among hundreds of exclusive verified offers for periods of 1 to 24 months near your campus: studios, flatshares, rooms in private homes... From the rental file to the reservation of the accommodation, all the steps are done online with a secured payment.
For those who don't have a guarantor living in France, Studapart is your guarantor for the whole duration of your rental with the Studapart guarantee.
Residence for young workers - Alexandre Manceau
Third year students on a professionalization contract and wishing to occupy a room in this residence must inform the school and contact the residence directly: the residence has some accommodation reserved for "young professionals" and professionalization contracts are likely to fall within this particular quota.
They must pre-register on this page.
Sciences Accueil
Science Accueil is an association specialized for more than 22 years in the accompaniment of national and international scientists in incoming mobility on the territory of Ile-de-France. It offers all types of furnished accommodation, from rooms in private homes to small or large apartments. Prices vary according to location and surface area.
More information on the website
ImmoJeune platform
Specialized in student housing, the ImmoJeune platform offers free access to find housing anywhere in France. The platform references rentals from private individuals, real estate agencies or private student residences, with various offers directly accessible online: studio apartments, one-bedroom apartments, shared rooms, rooms in private homes and intergenerational housing.
Intergenerational housing
The School is also in contact with the association ensemble2générations, an association that offers intergenerational cohabitation free of charge or at a lower cost. The principle? To be hosted in the home of a senior citizen in exchange for being present in the evening and at night, for services rendered or for a small rent.
Three formulas are proposed by the association according to your needs and availability:
Free accommodation with the commitment to be present very regularly in the evening and at night from dinner time. An annual fee of 390 euros is paid to the association.
Low-cost housing: the student is present regularly and provides some services, with a contribution to the monthly expenses of about 100 euros. The membership fee for ensemble2générations is 390 euros per year.
Solidarity housing gives the student a lot of freedom in his or her schedule, but does not exclude a certain amount of conviviality and small spontaneous services. A monthly rent of about 280 to 400 euros and an annual contribution to the association of 300 euros are to be expected. (APL possible)
In addition to finding a place to live without breaking the bank, it is an opportunity to share a beautiful experience with an elderly person, in a spirit of mutual help.
The association supervises the cohabitation and ensures a regular follow-up.
All the information on the conditions of registration can be found on the association's website.
 
Individual housing, rented alone or in shared accommodation
Sharing a flat is an option that allows you to reduce your costs without losing your right to personalized housing assistance (APL).
We advise you to focus your search around the Massy-Palaiseau station (RER B and C), the Palaiseau station (RER B), the Lozère station (RER B) and the Orsay station (RER B). In general, near public transportation (RER, bus). To help you, consult the access and transport page of the site.
Example of a tool to search for student housing in a private home: Lokaviz
Myapart by Adele, a housing search tool
Visit the housing search site myapart.org. If you need help, you can contact Adele directly at client@adele.org.
Housing aids
On the CAF website, you will find details about housing assistance applications: personalized housing assistance (APL), family housing allowance (ALF) or social housing allowance (ALS).
Do not hesitate to consult their site and to make a simulation of assistance to know your rights.
Ways to help obtain a deposit
The VISALE - Visa pour le Logement et l'Emploi - guarantee, which replaces the CROUS' Caution Locative Étudiante (Clé) scheme, is a guarantee granted by Action logement. For private lessors (landlords), it provides a reliable and free guarantee in case of unpaid rent or damage to property, and exempts tenants from having to provide any other guarantee when putting together their rental file.
The process is completely paperless and is carried out directly on the VISALE website. You will receive an answer within 48 hours. The request must be submitted before the inventory of fixtures and the signature of your new rental contract. Please note that the VISALE guarantee does not exempt you from taking out housing insurance, which remains mandatory and for which you can also apply online.
Guides are available on Campus France: guide in English / guide in French.
Consult the Campus France tutorials on the Visale guarantee
It is also possible to benefit from other financial aid such as the Loca-Pass advance for the security deposit or the Mobili-Jeune grant to reduce the monthly rent. As soon as your applications are made and your lease is signed, think about getting a head start on your moving-in process (signing an electricity, water and gas contract).
Interactive map of housing near ENSAE Paris