Master Data and Economics for Public Policy
ENSAE Paris and École polytechnique launch a new joint programme, in co-operation with Telecom Paris: the Master of Sciences & Technology "Data and Economics for Public Policy".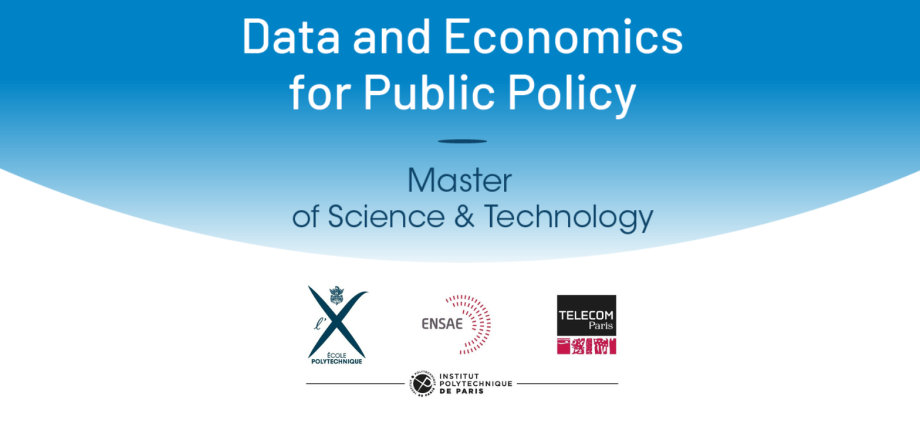 The MSc&T "Data and Economics for Public Policy" is a 2-year Master's program offering students (already holding a Bachelor's degree in mathematics and/or economics) a combination of strong technical skills and in-depth knowledge of economics and quantitative sociology to reform and improve public policy. At a time of heightened concern about economic development, labor, poverty, social equity, education, health and the environment, this MSc&T program gives students the tools to develop effective, evidence-based solutions, with a focus on the quantitative methods in the framing, analysis, and resolution of public policy problems.
This program is entirely taught in English. 
Decision-making in public affairs is now more informed by data than ever before.
The strength and originality of the MSc&T is to offer a program that is at the nexus of data science, statistics and economics relying on the expertise of the French leading "grande école" engineering schools.
The program focuses on the increasingly central role of data in the framing, formulation and implementation of contemporary public policies.
Program directors
This program differs from the ENSAE Paris multidisciplinary engineering program in that it allows for earlier specialisation in public policy issues, while maintaining a strong quantitative focus, a trademark of the programme's leading schools, Ecole Polytechnique, ENSAE Paris, and Télécom Paris. It is aimed at students seeking training dedicated to public decision making, in the government, specialised consultancy firms, French or international public organisations (for which, however, a continuation in a thesis is often a prerequisite), public statistics institutions, territorial actors or NGOs. 
Students planning to go directly into research may apply for a research Master's or PhD Track at the Institut Polytechnique de Paris. 
Academic prerequisites
The programme is designed for students interested in the application of quantitative methods to public policy:
Foreign students with a Bachelor's degree (or equivalent) with strong skills in mathematics and economics
Students from French universities with excellent results in a Licence such as: MIASHS, mathematics and economics, or econometrics
Graduates of Foreign or French Engineers' Degree (or equivalent) with solid skills in mathematics and a minor in economics
Job opportunities
This MSc&T prepares students to be public policy leaders, analysts and public policy experts in the public sector or non-profit organisations, or analysts or consultants in the private sector, both in France and abroad.
While the MSc&T is primarily aimed at students who plan to enter the world of work immediately after graduation, it also meets the European requirements for admission onto a PhD program,, particularly for students aiming to join international organisations at a later stage. 
Application and registration
Informations about applications and tuition fees are available on the program website: