Rania Mani, 1st year engineering student
Rania is a student in the first year of engineering studies and was recruited through the Concours Commun Mines-Ponts. She comes from a PSI prep school at IPEST (Institut Préparatoire aux Études Scientifiques et Techniques) in Tunis.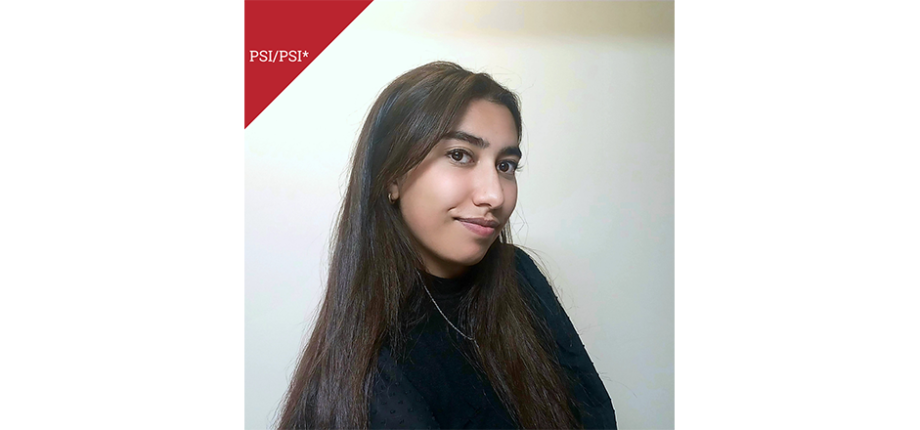 To help you see more clearly the training offer proposed by ENSAE Paris, students share their experience. 
1. WHY DID YOU CHOOSE TO ENTER ENSAE PARIS?
In the preparatory program, I chose to study in the PSI program because of my interest in physics. It's a field that still intrigues me and that I enjoy studying, but I discovered that I didn't want to make it my specialty, and that it's rather math that I want to do more. So I chose ENSAE Paris because I wanted to deepen my knowledge in applied mathematics. In addition, one of my prep school professors told me about the actuarial program offered by the school and that really spoke to me. Thanks to the different conferences I organized with the ENSAE Forum association, and those I attended, I am more and more interested in the actuarial field. For this reason, I think I will follow this path in 3A.
2. WOULD YOU RECOMMEND THE ENSAE PARIS PROGRAM? IF SO, FOR WHAT REASONS?
ENSAE offers a good course in applied mathematics as well as in economic and social sciences. We were able to acquire solid technical skills through the different projects we worked on throughout the year. ENSAE offers diversified specialization paths in 3A, with the possibility of double degrees with other schools such as business schools, engineering schools...
3. WHAT IS A TYPICAL WEEK LIKE FOR AN ENSAE STUDENT?
In general, a typical week at ENSAE is not too busy. The courses are fairly well distributed. In addition to the classes and tutorials that we do at ENSAE, we have Monday afternoons devoted to sports activities and Thursday afternoons to work on our community life.
4. ARE YOU OR HAVE YOU EVER BEEN PART OF A STUDENT ASSOCIATION AT THE SCHOOL? IF SO, WHAT WAS YOUR ROLE AND WHAT DID YOU GET OUT OF THE EXPERIENCE?
I am part of the Arts Office (BDA) as the person in charge of the Music Club. Thanks to the association, I acquired a lot of soft skills in project management and teamwork. I was able to organize the JAM Sessions, a musical event at ENSAE. This allowed me to meet other students on campus with whom I share the same interests. I am also in charge of communication for the association Forum ENSAE. The different conferences I attended and those I helped organize inspired me in the construction of my professional project and the consolidation of my network through exchanges with the school's alumni.
5. IN YOUR OPINION, WHAT ARE THE THREE STRONG POINTS OF ENSAE PARIS? 
What distinguishes ENSAE from other schools is the solid technical training it offers to students. In addition, it is a prestigious school in the field of data. The associative life within the school is also particularly rich and diversified.
6. WHAT ADVICE WOULD YOU GIVE TO THOSE WHO ARE STILL WONDERING ABOUT THEIR ORIENTATION AND ARE NOW IN THE PSI/PSI* PREPARATORY PROGRAM? 
The reasoning logic specific to the physical sciences, such as reasoning by infinitesimal variations or the conduction of dimensional analyses, can be used in different subjects such as econophysics or even macroeconomics, and allow one to step back from certain theoretical results taught. As for math, in the first semester we will take the important concepts that we study in the MP preparatory program and not in the PSI preparatory program, so there will not really be any difference between students in the different scientific preparatory programs.