Paola Ricou, 3rd year engineering student
Paola is a third year student in the engineering cycle in the Economics Policies and Dynamics track followed by a Master's degree in Environmental, Energy and Transport Economics at the University of Paris-Saclay. She was recruited through the Concours Commun Mines-Ponts (CCMP). She comes from a PC* prep school at the Masséna high school in Nice.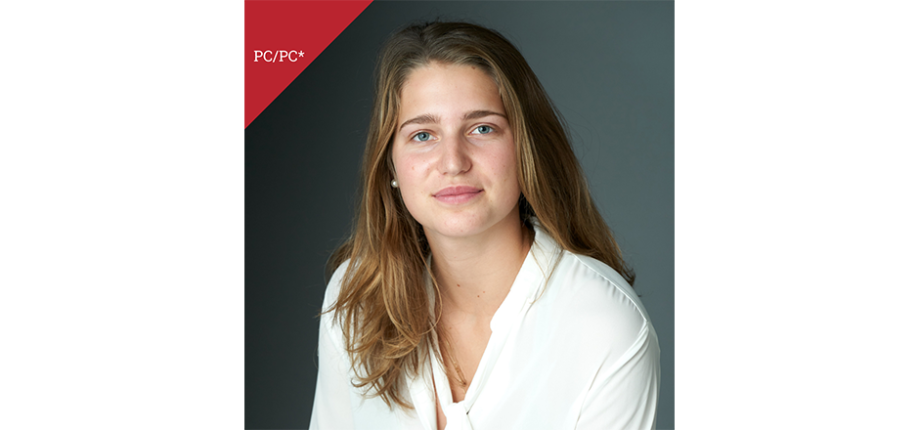 To help you see more clearly the training offer proposed by ENSAE Paris, students share their experience. 
1. WHY DID YOU CHOOSE TO ENROLL AT ENSAE PARIS?
My specialization (Economic Policies and Dynamics) at ENSAE is centered around economics. I chose to do a master's degree in environmental economics at Agro ParisTech in parallel with my third year at ENSAE Paris. My course allows me to approach several jobs related to the environment, whether in an environmental consulting firm, in a research center as I am doing for my internship at INRAE, or in large companies that wish to develop their skills in environmental matters. There are a lot of outlets and great opportunities.
2. WOULD YOU RECOMMEND THE ENSAE PARIS TRAINING? IF SO, FOR WHAT REASONS?
ENSAE's training is both specific and plural. While the core curriculum requires all students to acquire a basic knowledge of economics, statistics and programming, the opportunities are varied. The profile of a student going into sociology is generally quite different from that of a student going into finance, and there are economists and data scientists between these two extremes, not to mention double degrees with business schools or Sciences Po, for example. In the end, there is something for everyone.
The curriculum is quite academic and research-oriented. If it's not always fun, it has the advantage of teaching rigorous reasoning and work. I think these are valuable tools for any future job.
3. WHAT IS A TYPICAL WEEK LIKE FOR AN ENSAE STUDENT?
In third year, there are fewer classes to give students the opportunity to do a parallel course: early internship, work-study or additional master's degree. This double project means that we end up with full weeks. The work required is more personal, there are more projects and/or theses and fewer midterms. Students choose all the subjects in their curriculum, which is often more stimulating!
4. ARE YOU OR HAVE YOU BEEN PART OF A STUDENT ASSOCIATION AT THE SCHOOL? IF SO, WHAT WAS YOUR ROLE AND WHAT DID YOU GET OUT OF IT?
I have been involved in the KF&T, the school bar/foyer, which is always open and is the place where students hang out. There are football and pool tables for entertainment, coffee, tea and snacks are served, and in the evening a few beers are served, all with a little background music. I was also part of ENSAE Solidaire, which organizes the school's charity events. They organize a blood donation or collections of basic necessities. One year, the Christmas KF&T was a solidarity event and for every beer bought, 1€ was donated to an association organizing marauding.
5. WHAT ADVICE WOULD YOU GIVE TO THOSE WHO ARE STILL WONDERING ABOUT THEIR ORIENTATION AND ARE NOW IN THE PRE-PREP PC/PC* PROGRAM? 
Coming from a PC prep school, ENSAE is not the most logical path. I liked physics but I didn't see myself making a career out of it, and economics has always interested me. So I chose ENSAE. If you like statistics, probabilities and programming, ENSAE will please you! And there is always an area of application that you will like!