Eurydice Maucuer, 3rd year engineering student
Eurydice is a student in the third year of the engineering cycle in the Actuarial Science track and in the Master's program in Statistics, Finance and Actuarial Science (SFA) at the Institut Polytechnique de Paris. She was recruited through the Concours Commun Mines-Ponts. She is a graduate of the MP track at Blaise Pascal high school in Orsay.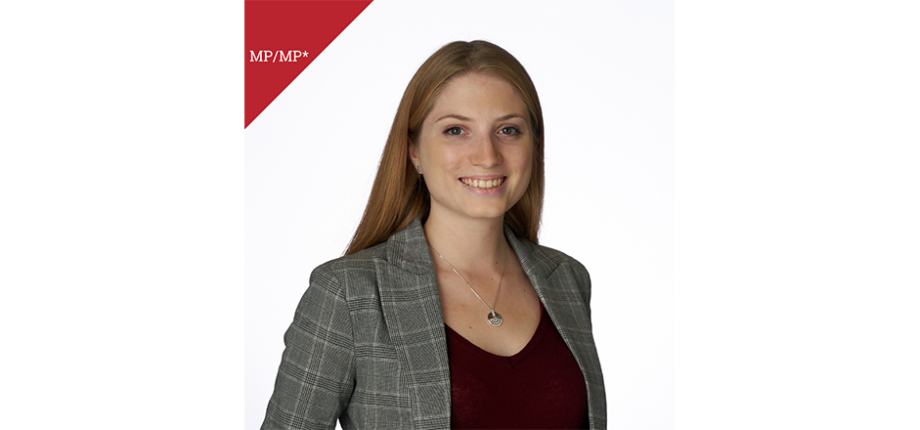 To help you see more clearly the training offer proposed by ENSAE Paris, students share their experience. 
1. WHY DID YOU CHOOSE TO ENROLL AT ENSAE PARIS?
In high school, I had already researched ENSAE Paris for its actuarial training. For this reason, I decided to pursue my studies in MPSI/MP prep classes with the objective of joining one of the schools recognized by the Institute of Actuaries, and more specifically ENSAE. Indeed, ENSAE is highly recognized for its actuarial training in France and is the only actuarial school that also delivers an engineering degree.
After two years of common core courses in applied mathematics (statistics, economics and finance in particular) and a gap year to confirm my choice, I decided to continue with my original idea and specialize in actuarial science. Actuarial science is one of the six specialization paths offered by ENSAE, in addition to the possibility of double degrees with business schools. This wide range of courses offers a wide variety of opportunities (consulting firms, banks, insurance companies, public sector, digital companies, etc.). 
2. WOULD YOU RECOMMEND THE ENSAE PARIS PROGRAM? IF SO, FOR WHAT REASONS?
I would recommend ENSAE Paris because its training is recognized for its excellence by professionals, which allows for high employability upon graduation.
3. WHAT IS A TYPICAL WEEK LIKE FOR AN ENSAE STUDENT?
The first two years of training are quite intensive, with approximately 25 hours of classes per week. The courses are organized in a rather classical format alternating lecture sessions and TD sessions in smaller groups. The courses still leave some time for those who wish to get involved in an association at the school. In the final year, the course is spread over only three days, which makes it possible to do a sandwich course or a second master's degree in parallel.
Life at the school is not only about classes, it is also about being involved in associations and participating in events organized at the school. 
4. ARE YOU OR HAVE YOU EVER BEEN PART OF A STUDENT ASSOCIATION AT THE SCHOOL? IF SO, WHAT WAS YOUR ROLE AND WHAT DID YOU GET OUT OF THIS EXPERIENCE?
I was treasurer of ENSAE Voile and of the BDE (Students Office). It was formative in many ways but also very demanding. Many of my strong memories at ENSAE are linked to the associations and friendships I made. 
5. IN YOUR OPINION, WHAT ARE THE THREE STRONG POINTS OF ENSAE PARIS?
The first advantage is that ENSAE is a school on a human scale with a little more than a hundred students per class in the first year. This allows us to get to know all the students in the school, which fosters a good atmosphere.
Secondly, ENSAE, as a founding member of the Institut Polytechnique de Paris, allows its students to follow a master's degree in parallel with the third year.
Finally, the school's location, which is criticized by some, gives access to numerous sports facilities and to the student life of the other schools on the Plateau de Saclay.
6. WHAT ADVICE WOULD YOU GIVE TO THOSE WHO ARE STILL WONDERING ABOUT THEIR ORIENTATION AND ARE CURRENTLY IN THE MP/MP* PREPARATORY PROGRAM?
In my opinion, the ENSAE is adapted to many profiles coming from the MP prep school: students who do not wish to continue their studies in physics and chemistry, and who are curious to discover new fields such as data science, economics, finance or insurance.
I think it is important to find out about the schools and their opportunities, and not to make your choice solely on the basis of rankings.