Corentin Pernot, 1st year engineering student
Corentin is a student in the first year of engineering studies and was recruited via the Concours Commun Mines-Ponts (CCMP). He comes from a PSI* prep school at the Sainte-Geneviève high school in Versailles.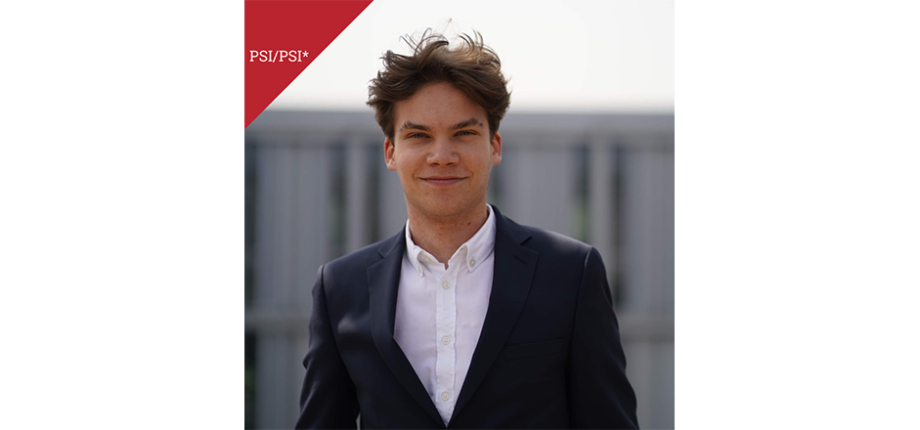 To help you see more clearly the training offer proposed by ENSAE Paris, students share their experience. 
1. WHY DID YOU CHOOSE TO ENROLL AT ENSAE PARIS?
I chose ENSAE Paris both for the subjects I studied and for the doors that the school opens. Firstly, I wanted to discover economics and pursue mathematics at a high level without necessarily continuing physics as is the case in many engineering schools. Secondly, the school's double degree policy is excellent both in France (HEC, ESSEC, ESCP, Sciences Po) and abroad with the most prestigious universities (Columbia, Berkeley, Cambridge...). Personally, I would like to do a double-diploma with a business school in order to complete my training and obtain a double qualification as an engineer (statistician) and a manager, or do a gap year and continue with the Data Science & Business Decision track in the 3rd year.
2. WOULD YOU RECOMMEND THE ENSAE PARIS PROGRAM? IF SO, FOR WHAT REASONS?
I would recommend ENSAE Paris to any student who wants to open up to the world around him or her and who wants to deepen their knowledge of mathematics. On the other hand, at ENSAE Paris the classes are of human size (about 120 people), which allows students to have a real proximity with the professors and lecturers, who are available to answer all questions and are attentive to possible difficulties. 
3. WHAT IS A TYPICAL WEEK LIKE FOR AN ENSAE STUDENT?
The lectures take place in amphitheaters and the tutorials in more traditional classrooms in small groups. In addition, Monday afternoons are devoted to sports and various associations. Thursday afternoons are also free, which allows us to participate in university sports competitions. Finally, after two years of preparatory classes, we also rediscover what a real two-day weekend is. 
4. ARE YOU OR HAVE YOU EVER BEEN PART OF A STUDENT ASSOCIATION AT THE SCHOOL? IF SO, WHAT WAS YOUR ROLE AND WHAT DID YOU GET OUT OF THE EXPERIENCE?
With the size of our classes at ENSAE Paris, everyone can get involved as they wish. Like 50% of the class, I belong to 3 associations: the Junior Entreprise, the Students Office and the men's volleyball team. My role as General Secretary of the Junior Entreprise of ENSAE Paris allows me to discover the business world and to see how it works, both through the follow-up of missions and through the administrative management of the association. 
5. IN YOUR OPINION, WHAT ARE THE THREE STRONG POINTS OF ENSAE PARIS? 
I believe that the three strong points of ENSAE Paris are its double degrees (HEC, ESSEC, ESCP, Sciences Po), the quality of the training provided, which is recognized and highly appreciated in the business world, and finally the number of students per class, which allows everyone to get to know each other and to form friendships.
6. WHAT ADVICE WOULD YOU GIVE TO THOSE WHO ARE STILL WONDERING ABOUT THEIR ORIENTATION AND ARE NOW IN THE PSI/PSI* PREPARATORY PROGRAM? 
First of all, the PSI/PSI* mathematics program makes it possible to arrive at ENSAE with confidence. Secondly, macroeconomics, like microeconomics, sometimes uses reasoning similar to that used in physics. Thus, a PSI/PSI* student has a perfect place at ENSAE Paris as long as he or she is motivated.