Aharon Elbez, 2nd year engineering student
Student in the second year of the engineering cycle, Aharon was recruited via the Eco and Maths-ECS competitive exam. He comes from an ECS preparatory program at the Notre-Dame de Sion high school in Marseille.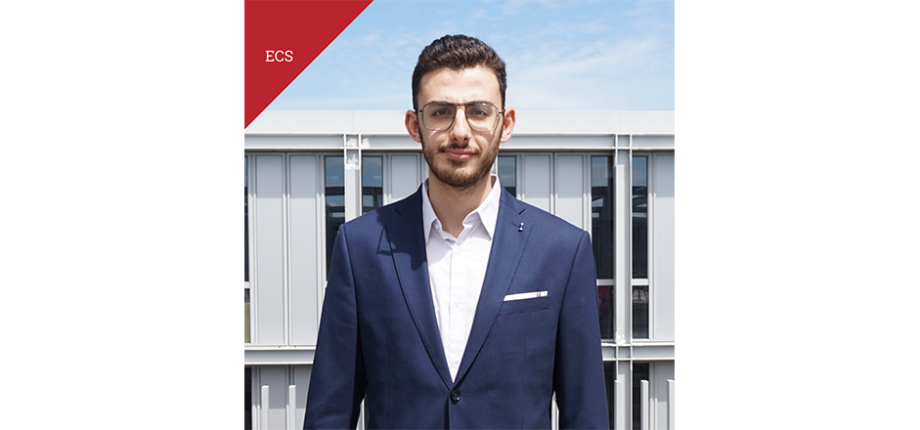 To help you see more clearly the training offer proposed by ENSAE Paris, students share their experience. 
1. WHY DID YOU CHOOSE TO ENROLL AT ENSAE PARIS?
Initially, I wanted to go to a business school to work in the world of finance. I applied to ENSAE Paris because my mathematics teacher in the preparatory program advised me to do so. Finally, when I found out that I was eligible for ENSAE, I became interested in the school and realized that it could help me do finance while continuing with mathematics. So I chose to enter this school two years ago. I am rather proud to have chosen ENSAE over business schools because I was able, during the last two years, to drastically improve my level in mathematics and discover the world of quantitative finance thanks to the options I chose during my second year at ENSAE. 
2. WOULD YOU RECOMMEND THE ENSAE PARIS PROGRAM? IF SO, FOR WHAT REASONS?
For an ECS preparatory student, I strongly recommend the ENSAE program! Indeed, the teaching methods of the school are relatively rigorous and all ECS students who like mathematics will appreciate this intrinsic characteristic of ENSAE. 
Moreover, ENSAE Paris requires students to carry out several projects during the year in order to put into practice the theoretical part of the different courses of each year. This is a real added value since the students of pre-preparatory school have known two or even three years of pure theory. These projects allow us to put into practice all our knowledge and test our hard and soft skills (the projects are almost always done in groups). 
3. WHAT IS A TYPICAL WEEK LIKE FOR AN ENSAE STUDENT?
Between classes and tutorials, the schedule at ENSAE is quite dense and our days are quickly filled. Nevertheless, the campus on which we are located is rich in student life and associations. Therefore, it is difficult to get bored on campus. 
In concrete terms, you will spend most of your days at ENSAE for classes or working in the library, and the rest of the time you will be at the KF&T (school bar) or with friends at the Polytechnique lake, or in the many residences on the plateau. Thursdays are a little different because students only have classes in the morning and the afternoon is reserved for community service. 
4. ARE YOU OR HAVE YOU EVER BEEN A MEMBER OF A STUDENT ASSOCIATION AT THE SCHOOL? IF SO, WHAT WAS YOUR ROLE AND WHAT DID YOU GET OUT OF THE EXPERIENCE?
I have not only been part of one association but four! I was Vice President of the school's finance association (EFI), General Secretary of the ENSAE Kryptosphere, Pre-TRIUM Manager at the ENSAE Trium and finally Treasurer of ENSAE Israel. These roles, all different from each other, allowed me to drastically improve my interpersonal skills. I also discovered a lot of very interesting people, which helps a lot if you want to enlarge your address book or if you are looking for a good way to integrate yourself in the school. 
Finally, the community life is probably the most obvious sign of a good school. For the different internships I had to do at ENSAE, I went through a lot of interviews and noticed that what mattered most for the recruiters were not the technical skills provided by the school, but the ones developed during the different associative implications. This is really what they look at the most on a resume! 
5. IN YOUR OPINION, WHAT ARE THE THREE STRONG POINTS OF ENSAE PARIS? 
In my opinion, the three strong points of ENSAE Paris are its international outlook, the size of the classes and the internships: 
The international opening because ENSAE strongly encourages us to go abroad (it is even a condition sine qua non for graduation). Moreover, the school has many partnerships with foreign schools and the destinations offered are often very prestigious. 
The size of the classes because ENSAE is a school with fairly small classes compared to other major engineering schools. This is a great advantage in my opinion because it doesn't take long to get to know everyone and the atmosphere is all the more pleasant. 
Finally, ENSAE requires an internship at the end of each year. This internship is an opportunity to apply all the notions learned during the year. Finding an internship is a very difficult task but the support of the school really makes this task easier, which is a positive point! 
6. WHAT ADVICE WOULD YOU GIVE TO THOSE WHO ARE STILL WONDERING ABOUT THEIR ORIENTATION AND ARE NOW IN THE PRE-PREPARATORY SCHOOL ? 
We won't lie to ourselves, the first year of ENSAE requires a substantial workload for an ECS student. Since we are the ones who have the least dense mathematical background (with the BL), we have a lot of things to catch up on and our workload is therefore more intense than for the other students. Nevertheless, the fact that we did a lot of probability in ECS will make it easier for you and, in the end, we catch up quite quickly with the other students coming from scientific pre-prepas. 
Moreover, if you absolutely want to enter a business school, you can always try a double-diploma offered by ENSAE in partnership with HEC, ESSEC or ESCP. Finally, ENSAE Paris is really a good compromise for ECS students because it will offer you varied career opportunities that are well anchored in today's economic and technological reality, thanks in particular to its openings to economic sciences and the world of artificial intelligence.