Alcohol prevention
ENSAE Paris is committed to a comprehensive program to prevent alcohol and drug-related risks.
The school's policy and the prevention modules implemented for 1st and 2nd year students are designed to make students more responsible as individuals. The school's goal is to empower students to adapt their behaviors and to take care of their health, the health of their peers, and the proper conduct of association events.
The training of student association leaders and members is a priority for the School in order to ensure the responsible organization of student events and parties. First aid training, financed by the CVEC, is also part of this program.
Platform for reporting gender-based violence, harassment and discrimination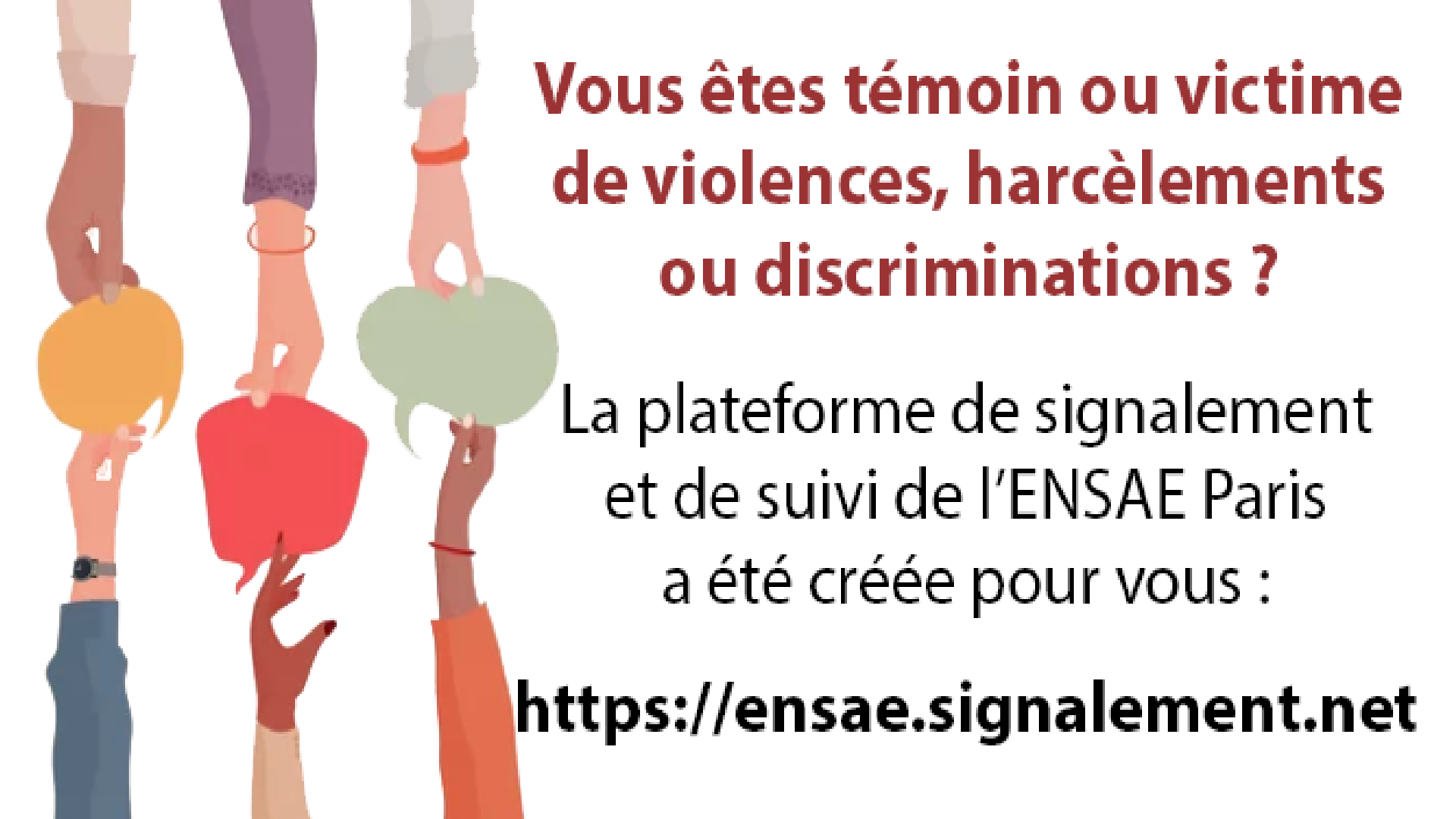 At the start of the 2021 academic year, ENSAE Paris has set up a secure online reporting platform, available 24/7, associated with a reporting and support protocol, in order to deal with reports of violence, harassment and discrimination, while guaranteeing the confidentiality of exchanges. 
Anyone who witnesses or is a victim of such incidents can report information via the dedicated alert system or by any other means they deem necessary. Students are made aware of harassment and sexual and gender-based violence as soon as they enter the curriculum, and can access all the information on the dedicated page of the intranet.
The school is also committed to training its staff to identify and prevent sexual and gender-based violence and to support witnesses or victims. The members of the listening and follow-up unit are available to listen to victims or witnesses, directly or via the online platform.
Association managers are also trained in these issues.
ENSAE is a diverse and open school, which must be uncompromising in its respect for the values of inclusion of all sensibilities, respect for people and human dignity. All acts of discrimination, harassment, hazing, threats or defamation, as well as those that encourage or facilitate them, will be subject to disciplinary sanctions, independently of possible criminal proceedings.