Maria Alexa, 2nd year engineering student
Maria is a student in the 2nd year of the engineering cycle and was recruited via the Concours Commun Mines-Ponts. She comes from a MP* prep school at the Chaptal high school in Paris.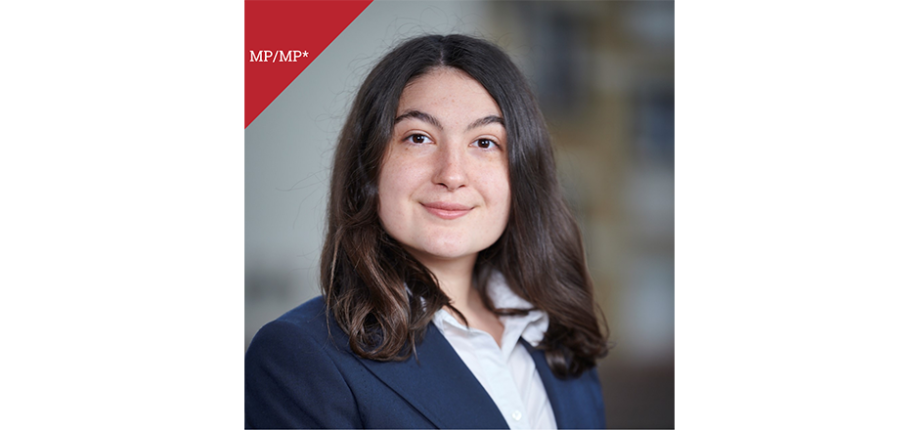 To help you see more clearly the training offer proposed by ENSAE Paris, students share their experience. 
1. WHY DID YOU CHOOSE TO ENROLL AT ENSAE PARIS?
I chose ENSAE Paris because of its program in statistics and data science. The specialization path that interests me is the DSSA path (Data Science, Statistics and Learning), and I plan to combine my third year at ENSAE with the Master's degree in Mathematics for Life Sciences at the Institut Polytechnique de Paris. I wish to apply my knowledge in statistics and data to the biomedical field.
2. WOULD YOU RECOMMEND THE ENSAE PARIS PROGRAM? IF YES, FOR WHAT REASONS?
I would recommend the ENSAE Paris program because it is progressive. The courses are linked to each other and from one year to the next. Our professors are at the forefront of their field, which makes you want to learn.
3. WHAT IS A TYPICAL WEEK FOR AN ENSAE STUDENT?
Monday is sports day. Thursday afternoons are free and devoted to associations and sports competitions.
4. ARE YOU OR HAVE YOU EVER BEEN PART OF A STUDENT ASSOCIATION AT SCHOOL? IF SO, WHAT WAS YOUR ROLE AND WHAT DID YOU GET OUT OF THIS EXPERIENCE?
I was the General Secretary of the BDE (Students Office), President of the Forum Trium association and member of the debating team. We won the debating tournament, which was extremely rewarding.
5. IN YOUR OPINION, WHAT ARE THE THREE STRONG POINTS OF ENSAE PARIS? 
The three strong points of ENSAE Paris are that the classes are of human size, which allows us to get to know everyone, which is very pleasant. On the other hand, the access to the masters of the Institut Polytechnique de Paris and the presence of students coming from the BL and ECS preparatory programs are strong points of the school.
6. WHAT ADVICE WOULD YOU GIVE TO THOSE WHO ARE STILL WONDERING ABOUT THEIR ORIENTATION AND ARE CURRENTLY IN THE MP/MP** PREPARATORY PROGRAM? 
ENSAE offers a wide range of career paths: finance, actuarial science, data science in many fields. It is a school of the future and, coming from MP, it is extremely pleasant to discover new subjects like microeconomics and macroeconomics.