Joel Stéphane Feussi Soffo, 3rd year engineering student in Finance, Risks and Data track
[This testimonial has not been translated into English. Please find below the original content in French] Élève en 3e année du cycle ingénieur, voie Finance, Risks and Data (2023), Joel Stéphane Feussi Soffo a été admis à l'ENSAE Paris via le recrutement international, dans le cadre d'un double diplôme avec l'ENSEA d'Abidjan.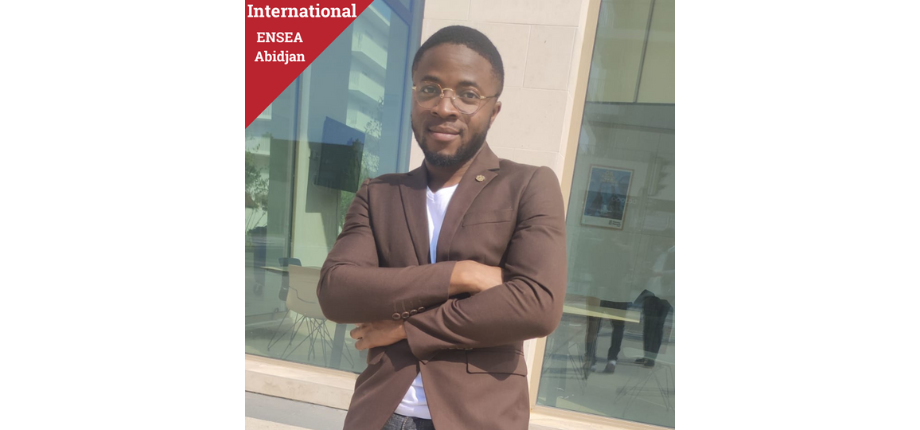 Pour vous aider à y voir plus clair dans l'offre de formation proposée par l'ENSAE Paris, les élèves partagent leur expérience. 
Pourquoi, à l'époque, avoir choisi d'intégrer l'ENSAE Paris ?
J'avais obtenu une licence en mathématiques fondamentales à l'université de Yaoundé 1 puis j'avais intégré l'École Nationale Supérieure de la Statistique et l'Économie Appliquée d'Abidjan (ENSEA) pour le cycle des ingénieurs des travaux statistiques. L'ENSAE Paris représentait l'école idéale pour réussir mon projet professionnel car je voulais appliquer la data science dans le domaine de la finance quantitative. Heureusement pour moi, cette spécialité faisait partie de la formation qu'elle offre.
Aujourd'hui avec le recul, selon vous, quels sont les principaux points forts de l'ENSAE Paris ?
L'ENSAE Paris est caractérisée par la rigueur de ses enseignements et surtout par la valorisation de la mathématique dans presque toutes les unités d'enseignements. Dans tous les cas il faut aimer les maths pour aimer l'École. Ce qui est encore plus remarquable, c'est l'implication des élèves dans la vie associative, qui par ailleurs demeure pour moi un excellent moyen d'intégration compte tenu de la diversité des profils qu'on retrouve dans cette école !
À qui recommanderiez-vous l'ENSAE Paris ?
Si tu aimes les mathématiques et souhaites concrètement voir les domaines d'utilisation, l'ENSAE Paris est faite pour toi !
Quels conseils donneriez-vous aux candidates et candidats ?
À toutes les candidates et tous les candidats qui se poseraient encore des questions quant au choix de leur future école d'ingénieur, je vous conseille vivement l'ENSAE Paris car non seulement tu auras beaucoup d'opportunités de carrières avec ton diplôme d'ingénieur, mais aussi tu découvriras une administration bienveillante disposée à t'accompagner durant tout ton cursus.
Pouvez-vous nous parler d'un ou deux moments phares de votre vie à l'ENSAE jusqu'à présent et pourquoi vous ont-ils marqué ?
Les échanges avec les ENSAE alumni m'ont permis de savoir jusqu'où l'on pourrait aller avec notre diplôme d'ingénieur en entreprise.
Dans un tout autre registre, je n'oublierai pas le tournoi sportif de l'Institut Polytechnique de Paris (IP Paris) de 2022 durant lequel j'ai rencontré les autres élèves du Platal !
Faites-vous partie d'une association étudiante de l'école et/ou du campus ?
J'ai été Vice Président du Bureau des Internationaux de l'ENSAE Paris durant l'année académique 2021/2022; C'était vraiment une expérience enrichissante pour moi dans la mesure où j'ai participé de manière active à l'accueil  des élèves internationaux de l'ENSAE Paris et à leur intégration via quelque activités dont moi-même j'étais le responsable telles que la soirée gastronomique du BDI et le Easter meal.
Merci à Joel pour ce retour d'expérience ! Pour aller plus loin dans votre découverte de l'ENSAE Paris :