Debating Tournament : IESEG vs ENSAE Paris
17 Feb. 2023 - 17 Feb. 2023
In a heated amphitheatre, the five students of the ENSAE Paris English debate team won the debate against IESEG on Friday, 17 February!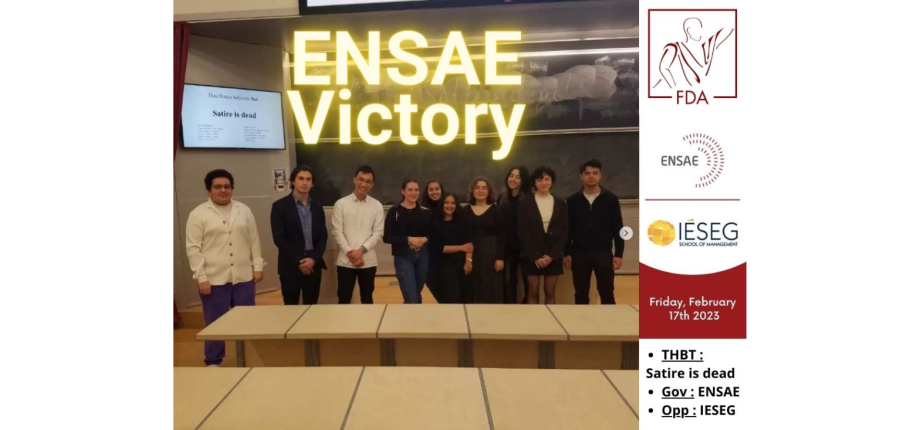 Congratulations to Dasha Haryfullina, Mira Maamari, Yassine Machta, Alexandre Partensky, Capucine Rousset and Tien-Thinh Tran who used their skills to bring victory. They convinced the audience to believe that satire is dead!
Let's also congratulate the ENSAE coach Anne-Marie WOODS and the Language Department who accompanied the students in the preparation of the tournament and in their skills development.
Last year, ENSAE Paris won the tournament for the sixth consecutive time. Let's hope that the trophy stays with ENSAE in 2023, thanks to our brilliant team.
Debating is...
A playful rhetoric contest, inspired by the parliamentary debates at the House of Commons in Westminster, during which two teams of 5 speakers confront each other around a motion prepared 4 days in advance but also leaving room for improvisation. One team takes on the role of the Government and tries to convince the jury to adopt the motion, while the other, playing the role of the opposition, competes with verve to try to have it rejected.
This competition has been organised on the initiative of the French Debating Association (FDA) since 1993, when Declan Mc Cavana, then an English teacher at ENSAE Paris, Polytechnique and ENA, created the structure. Its aim: to encourage public speaking in English among students. The enthusiasm shown by the participants and the public at the first tournament was such that the event was repeated every year, with increasing success.