The practice of sports is strongly encouraged by ENSAE Paris and is evaluated in the 1st and 2nd years.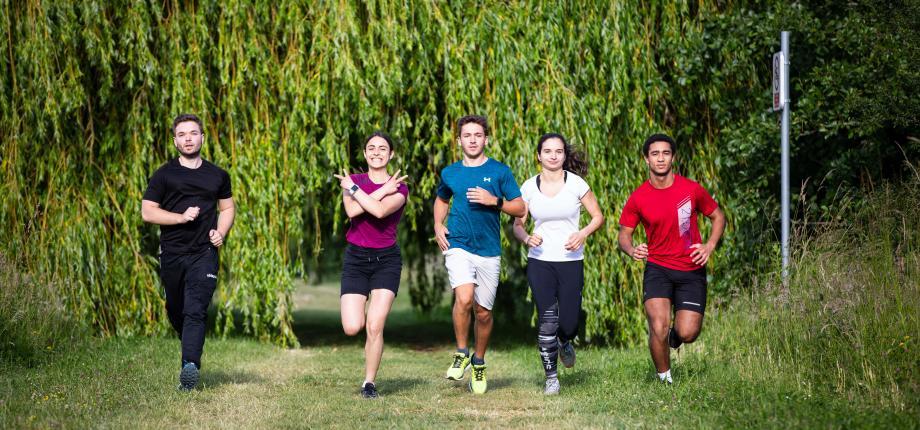 Sports in the engineering curriculum
The timetable reserves two half-days per week for sports: Monday afternoons are devoted to training and Thursday afternoons to the university competitions of the French University Sports Federation (FFSU).
Download the provisional schedule for 2023-2024 (in French)
ENSAE Paris offers the following courses thanks to the supervision of graduate students.
Athletics
Sample session
Warm-up.
Presentation of the session.
Collective warm-up.
Athletic range.
Differentiation of the body of the session: endurance / sprint.
Stretching and muscle strengthening.
Objectives
Learning the fundamentals of running.
Development of energy quality specific to endurance or sprinting.
Education in body mobility and efficiency.
Rowing
A new sports activity offered this year, rowing is a sport of balance, glide, and speed in slender long boats. Rowing tones and strengthens the musculature in a harmonious way, improves abdominal core strength. These benefits contribute to improving daily posture. The class will take place on the Polytechnique lake. This activity will be shared with ENSTA and will be coached by an experienced instructor.
Badminton
Individual work in opposition by theme and in doubles. Possibility of entering university competitions according to one's level by team.
Men's, women's or mixed teams.
Objectives
To be able to place oneself in opposition in one-on-one by developing bunting and clearing techniques to win the rally.
To master a strategy to build the point from a placed serve.
Basket ball
Work in two groups: women and men. The groups train on the same schedule in two nearby gyms. The two coaches sometimes organize friendly matches between the groups.
A team can enter a competition if several students are motivated.
Objectives
Work mainly focused on Running, counter-attacking.
Technique: fundamentals of shooting and 1-on-1 as a whole (jumping, passing, triple threat, dribbling).
Knowing how to play together: use of space and screens on the carrier.
Team spirit
Dance
Typical session
Warm-up: muscular awakening, relaxation, muscular strengthening.
Technical exercises: beats, turns, etc.
Choreography: learning a choreography over several sessions.
Cool down: stretching, relaxation.
Objectives
To be able to work in rhythm to the music and be synchronized with the rest of the group.
Memory, coordination and aesthetics of movement are important points in this discipline.
The dance style, modern, can evolve towards a more contemporary style or modern jazz according to the desires or needs of the group.
Climbing
Typical session
Generic and specific warm-up.
Specific exercises on an aspect/gear/rope handling, etc.
Project work
Objectives of the semester
To bring beginners to autonomy (climbing safely in the lead).
Accompany students in their progression.
To have students formulate objectives and explore the technical, tactical, physical and mental qualities required.
Fencing
Typical session
Warm-up.
Specific work on the movements (fundamentals).
Technical work in a weapon.
Assault work.
Objectives
To familiarize students with fencing with two weapons (epee and saber).
To bring them to master the rules and technique in each weapon.
To make them more autonomous in terms of self-control (speed, precision, timing, etc.).
To improve technical and tactical qualities in order to accept the duel (assault).
To maintain and improve physical condition by using good coordination, observation, balance and timing.
During the year, students will practice two weapons: the sword and the saber.
Fitness
A new sports activity offered this year, fitness is a low-impact sport aimed at strengthening the entire body with reduced physical stress. Cardiovascular exercise holds a central role, enabling heart strengthening and improved blood circulation.
This activity will be shared with ENSTA and will be led by an experienced and dynamic instructor. The practice engages a significant portion of the body's muscles, especially those in the legs and arms.
Football
Collective sport that has been giving rise to competitions for several years now.
Handball
Typical session
Warm-up
Implementation of exercises to develop individual and collective skills (defensive, offensive, energy, muscle, game)
Return to calm
Themes addressed throughout the year
To highlight the problems posed by the collective game
Passing and receiving the ball; occupying space
Move the ball forward collectively and towards the goal
Move the ball individually: dribble
Cooperate to shoot at the goal
Oppose the opponent: mark him/her, stand out
Oppose the progress of the ball : intercept
React to role changes: attackers/defenders
Develops and implements attack and defence strategies
To play handball while respecting the rules
Tournament
Judo
Discipline practiced jointly with the students of ENSTA Paris.
The group is composed of students who already have a good level of practice.
Swimming
Swimming is practiced in the École Polytechnique swimming pools. ENSAE Paris has two pools at its disposal for one-hour sessions, in the presence of two educators. This format allows students to have a familiarization practice or a competition practice.
As far as equipment is concerned, swimmers must bring a bathing suit, a bathing cap, a pair of goggles and a pair of fins.
Rugby
Discipline practiced jointly with the students of ENSTA Paris.
The group is composed of students who already have a good level of practice.
Tennis
New sports activity offered this year, tennis is a technical and endurance-based sport. This activity is open to everyone, from experts to beginners. It is coached by an experienced and dynamic instructor.
Table tennis
Typical session
Physical warm-up
Technical training (service, forehand and backhand, spin control)
Sequences of matches
Objectives
Learn to play table tennis in motion.
To discover or improve the different technical shots.
Understand and master spin
This sport is not guaranteed to be offered in 2021.
Ultimate
Grass ultimate field, mixed group.
Objectives
Discovery of the activity
Learning the basics of the activity, throws, rules, strategies, etc.
To insist on the importance of fair play for the practice of a self-refereed activity in the respect of the others and where the state of mind prevails.
To advance a disc to score in the opponent's zone.
No contact between players.
Notion of fair play in a self-refereed sport.
To help students progress technically at the individual level and collectively in the organization and management of strategy in ultimate.
Volley ball
Two groups: female and male.
Typical session
Training and improvement with the aim of getting involved in an opposition by looking for specialization on a position.
Objectives
To help players progress technically and tactically as well as physically (acquisition of new motor skills, improvement of speed of execution and balance in general).
Possibility to get involved in a university competition dynamic according to one's level.
Find one's place in a team by specializing in one position to develop an effective offensive strategy.
Mastering a regular service, a placement in relation to the team's game plan.
Be able to develop the main movements in all phases of the game, offensive and defensive.
The inclusion of sports in the school curriculum is based on attendance and active participation in sports sessions organized by the school and directed by an instructor; participation in competitions is valued. All students practicing a sport will have to provide a medical certificate of fitness for sport dated less than 3 months.
For any question related to compulsory sports in the engineering curriculum, you can contact sport@ensae.fr.
The ENSAE Paris Sports Office (student association) also offers sports events throughout the year.
Sports events 
Throughout the year, students participate in various sports events organized by the other grandes écoles:
Centrale Lyon Challenge
X Cup - ParisTech Tournament
TOSS (Supélec Omnisport Tournament)
Raid Centrale Supelec
TiTAn
Sports outside the engineering curriculum
Other possibilities are offered through the ENSAE Paris Sports Office (BDS) and the École Polytechnique Sports Club (CSX).
All those practicing a competitive sport activity must be licensed with the French Federation of University Sports (FFSU) and the medical certificate must mention participation in competitions. The affiliation will be done within the School.
Download the medical certificate