ESSEC and ENSAE offer their students who have been admitted to the partner institution the possibility of completing an adapted curriculum with a view to obtaining a joint diploma from ESSEC and ENSAE.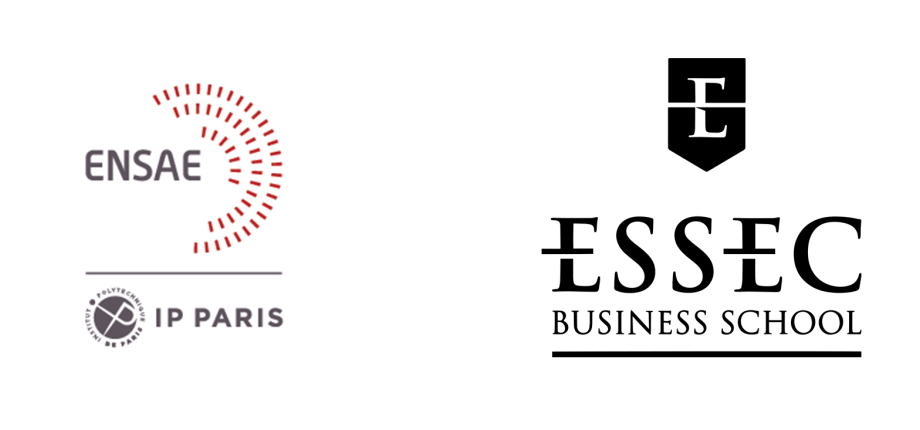 ESSEC students at ENSAE
ESSEC students, admitted through a competitive examination after an economics and business preparatory class with a scientific option or a B/L preparatory class, can apply and, if necessary, alternate between the two institutions:
The student attends the first year of ESSEC (pre-master's) and must enroll in and validate the ESSEC preparation course in mathematics for the double degree with ENSAE; it is essential to obtain good results in mathematics in order to be admitted to ENSAE .
The student completes his or her second year of studies at ENSAE as part of the second direct year of the ENSAE curriculum.
The third year is completed at ESSEC where he/she is enrolled in MSc2 by validating the academic requirements described in the agreement.
During the fourth year of study, the student follows the third year at ENSAE and chooses one of the 5 specialization tracks (excluding actuarial science) offered at ENSAE.
The requirements and equivalencies of the double degree are specified in the agreement (basic courses, electives, TOEIC, internships, languages).
ESSEC students divide the professional experience (12 months) and international experience (6 months) required for the ESSEC diploma before, during or at the end of their course at ENSAE, during a fifth year. Internships completed in France or abroad as part of the ENSAE curriculum are taken into account in the calculation of professional and international experience.
ENSAE at ESSEC
The ENSAE Paris student-engineer admitted to the first year of the engineering program may apply for, and if necessary, complete his or her studies at both institutions as follows:
The student validates the first and second years at ENSAE and the internships required in the ENSAE program (opening internship and application internship) according to ENSAE procedures (validation of the subject, report, defense); he/she applies during the second year at ENSAE to be admitted to ESSEC following an oral exam in the spring, also presenting the required GMAT or Tage-Mage test scores as well as TOEIC or TOFEL.
The student then completes his or her third and fourth year at ESSEC where he or she is enrolled in the Master's program (MSc1 and MSc2). The requirements and equivalences of the double degree are specified in the agreement (refresher course exemptions, core courses, electives, TOEIC, internships, languages).
The ENSAE student completes the professional and international experiences in order to fulfill the requirements for the ESSEC diploma (12 months of professional experience and 6 months of international experience) during his or her curriculum at ESSEC or during a fifth year. They will not be able to follow an apprenticeship program or benefit from ESSEC's academic exchanges, but they will be able to follow the tracks offered on ESSEC's campuses in Singapore and Morocco, subject to eligibility.