Tournoi de Debating : l'ENSAE Paris remporte la demi-finale face à l'Université Paris 1 Panthéon-Sorbonne !
Victoire de l'ENSAE Paris en demi-finale du tournoi 2023 organisé par la FDA face à l'équipe de l'Université Paris 1 Panthéon-Sorbonne !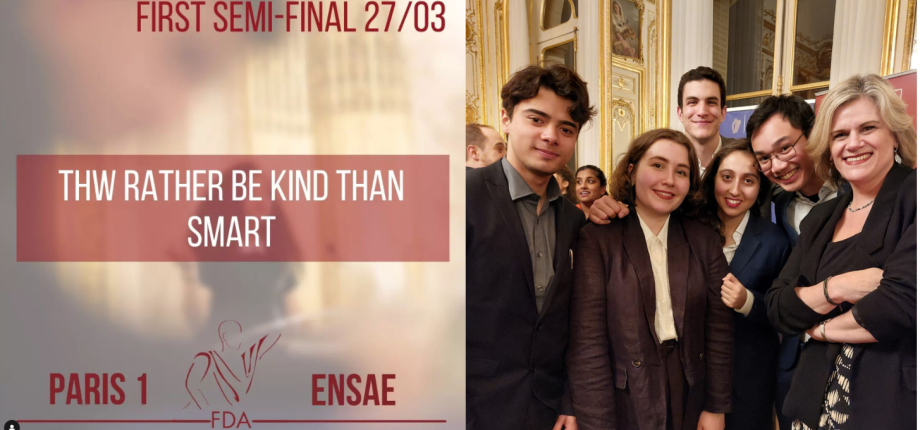 The ENSAE Paris debating team qualifies for the final of the 2023 tournament! This Monday, March 27th, the semi-final was held at the Irish Embassy, in Paris. Our five students had opposed the motion "Rather be kind than smart" against the team of the University Paris 1 Panthéon-Sorbonne. Congratulations to both teams for their performance and see you on 6 April for the final!
Un concours ludique de rhétorique, inspiré des débats parlementaires à la Chambres des communes à Westminter, au cours duquel se confrontent deux équipes de 5 orateurs autour d'une motion préparée 4 jours à l'avance mais laissant également libre cours à l'improvisation. L'une endosse le rôle du Gouvernement et cherche à convaincre le jury d'adopter cette motion tandis que l'autre, incarnant les membres de l'opposition, rivalise de verve pour tenter de la faire rejeter.
Cette compétition est organisée à l'initiative de La French Debating Association (FDA) depuis 1993, date de création de cette structure par Declan Mc Cavana, alors enseignant d'anglais à l'ENSAE Paris, à Polytechnique et à l'ENA. Son but : encourager la prise de parole en public en anglais chez les étudiants. L'engouement, dont témoignent les participants et le public lors du 1er tournoi, est tel que l'évènement est dès lors reconduit tous les ans et remporte à chaque édition un succès toujours croissant.