Admission to Advanced Masters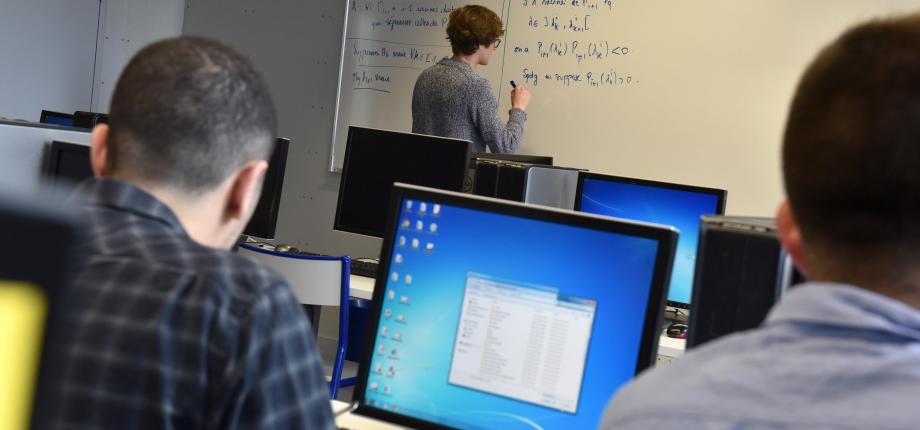 ENSAE Paris offers four Advanced Masters® ("Mastères Spécialisés", MS) accredited by the Conférence des Grandes écoles, in the following specialties: Actuarial Science, Data Science, Finance and Risk Management and Quantitative Methods for Economic Decision Making.
These post-master's programs allow students who already hold a master's degree to acquire additional high-level training in ENSAE's areas of excellence, and thus benefit from the key skills delivered by the school.
The Specialized Master's degree can be taken either directly as a continuation of initial training or after a period spent in a company. To be admitted, candidates must already hold an M2 degree or a diploma from a Grande Ecole, and be able to prove that they have a sufficient level of knowledge of the disciplines taught in the 3rd year of ENSAE Paris (economics, mathematics, statistics, finance, etc.). They must also be able to follow courses in French and English.
Procedure
The application procedure is completely dematerialized via a dedicated site (application site user guide in French). If you are unable to validate the form, try again with another browser and do not put an accent. For any additional information you can contact us via the box admission[at]ensae.fr.
If the official documents are not available on the dates indicated, the candidate will attach a certificate of grades already obtained (the original will be sent later). Please note that the applicant must have obtained a degree at the M2 level before December 2024.
If these conditions are not met, the application file will be considered inadmissible by the jury.
Documents to be provided
Letter of motivation
CV (preferably in French)
Two letters of recommendation from professors who have followed the candidate in his or her studies, or from supervisors (name, position, telephone). You can use this model of recommendation letter, which you can download, or a free document (signed and uploaded in pdf). These documents can be written in French or English.
Transcripts of grades and rankings obtained during schooling (grande école or university) for the school years prior to 2023-2024 and for the first semester of 2023-2024 if applicable for Session 1 candidates and mandatory for Session 2 candidates
Copy of academic credentials or a certificate from the issuing authority if the degree* was not officially awarded by the closing date of the session
Dated and signed Declaration of Commitment for Tuition Fees Declaration of Commitment as an Employee / Declaration of Commitment as a Student.
Photocopy of identity card (or family record book or passport)
No additional time will be allowed for online registration or for uploading supporting documents, except for letters of recommendation, which can be sent up to one week after the closing of the application site to the admission[at]ensae.fr box. Be sure to "definitively validate" your application on the site so that it can be taken into account.
With the exception of the few candidates contacted individually and authorized to apply in the second session, it is not possible to reapply in the second session if your application was not accepted in the first session.
Schedule
For the year 2024-2025, two recruitment sessions are held :
First session starting January 2, 2024. Candidates must register on the application site until February 13, 10:00 am and upload their application documents (see below). The results will be published below on XX XX, 2024 and those admitted will be contacted by e-mail.
Second session from February 16, 2024. Candidates must register on the application site until March 29,  at 10:00 am and upload the documents that make up the application (see below). The results will be published on this site in XX XX, 2024 and those admitted will be contacted by e-mail.
The school year will start at the end of August 2024.
Non european candidates
In addition to your application on the ENSAE website and depending on your country of origin, you will also need to apply on the Études en France website (formerly Campus France) for the administrative and visa procedures.
Countries of origin concerned : Algeria, Argentina, Benin, Brazil, Burkina Faso, Burundi, Cameroon, Chile, China, Colombia, Comoros, Congo Brazzaville, Ivory Coast, Djibouti, Egypt, Gabon, Guinea, Haiti, India, Indonesia, Iran, Japan, Kuwait, Lebanon, Madagascar, Mali, Mauritania, Mauritius, Mexico, Morocco, Peru, Republic of Congo (Democratic Republic of), Russia, Senegal, Singapore, South Korea, Taiwan, Togo, Tunisia, Turkey, United States, and Vietnam
It is reminded that according to article 441-6 of the Penal Code, those guilty of forgery in public writings can be punished by two years of imprisonment and a fine of approximately 30,000 euros. Any false declaration will lead to the exclusion of the candidate, and will be reported to the Public Prosecutor.
Admission results 2023-24
The jury met at the beginning of April 2023 to decide on the admissions for the 1st session of the Specialized Masters of ENSAE Paris:
There is no complementary list.
In June, ENSAE Paris will contact the admitted students by e-mail to inform them of the administrative procedures for their registration. Tuition fees are specified on this page.