Roundtable with John List (U Chicago) on Public Policy Evaluation
07 Sep. 2022 - 07 Sep. 2022
John List, Professor at the University of Chicago, will come to our campus to present his latest book "The Voltage Effect: How to Make Good Ideas Great and Great Ideas Scale". The IPP and CREST are pleased to welcome him on campus. A round table on "Public Policy Evaluations: What future for economic expertise?" will follow the presentation.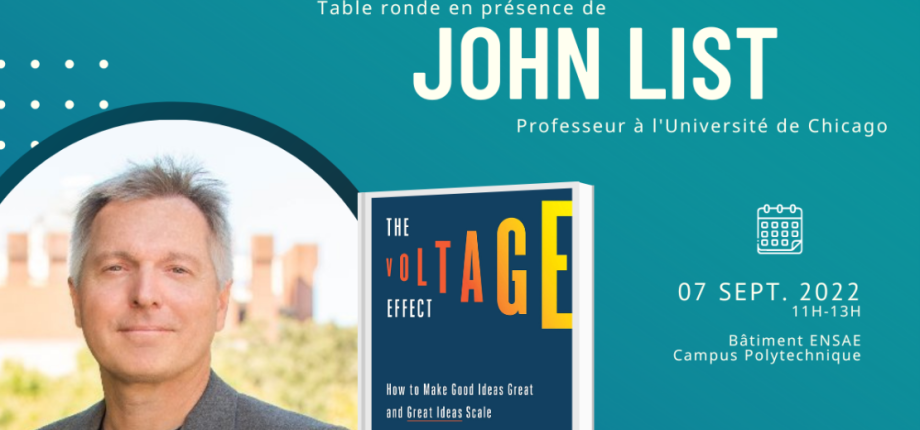 Speakers
John List, Professeur à l'Université de Chicago
Jean-Luc Tavernier, Directeur général de l'Institut national de la statistique et des études économiques
Selma Mahfouz, Inspectrice générale des finances
Lara Muller, Directrice des Etudes et Analyses de l'Unédic
Antoine Bozio, Directeur de l'Institut des politiques publiques
Context
Les enjeux futurs pour l'évaluation des politiques publiques se concentrent autour de deux questions, l'une organisationnelle, l'autre méthodologique. En effet, si le monde académique a été précurseur dans le design et la production d'études empiriques, il reste à trouver la meilleure manière d'organiser la production de connaissances, entre la recherche académique, les organismes publics et les cabinets de conseils. Plus précisément, quel serait un bon modèle économique pour l'expertise des politiques publiques ?
En second lieu, se pose la question de la validité externe. Comment capitaliser les résultats issus de contextes particuliers ?
Les intervenants apporteront leur éclairage sur les questions ci-dessus.
Practical information
Language: English
Location: Amphi 250, ENSAE building, 5 Av. Le Chatelier, 91120 Palaiseau
Date: September 7, 2022
Time: 11 a.m. to 1 p.m.
Registration
Please fill out the form before Monday, September 5.