The ENSAE Paris team wins the French Debating 2023 final !
On Thursday 6 April, the French Debating Association (FDA) celebrated its 30th anniversary and ENSAE Paris its 7th victory in the inter-school and inter-university English debating tournament! Congratulations to our students who won this 2023 edition in the final against the team of the Cycle pluridisciplinaire d'études supérieures (CPES) of the Université PSL!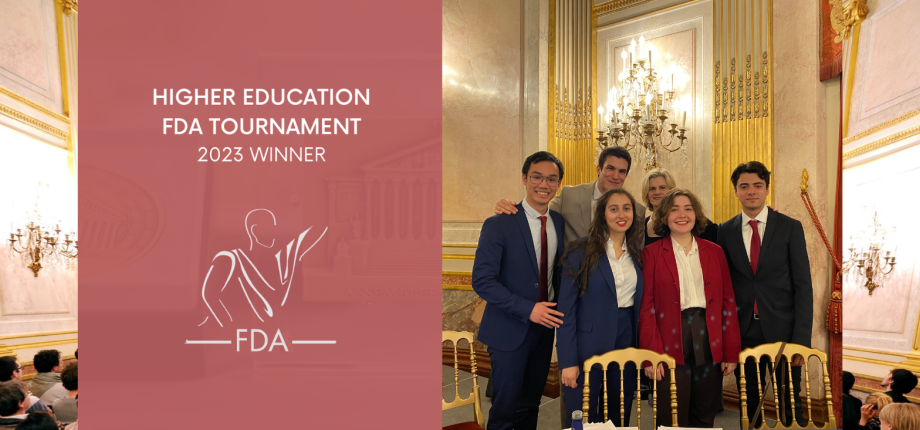 The Hôtel de Lassay at the French National Assembly hosted the 30th edition of the French Debating Association's final tournament on Thursday 6 April. 21 schools and universities competed this year, including ENSAE Paris, which was challenging for the title won last year.
Coached by their English teacher Anne-Marie WOODS, the ENSAE Paris team won the tournament for the 7th time, facing the great debaters from the CPES - Université PSL, in front of a jury composed of:
M. Christophe Pallez, Honorary Secretary General of the Questure of the French "Assemblée Nationale"
M. Jean-Luc Lala, Director of the "Département des affaires européennes, internationales, et de défense" of the "Assemblée Nationale"
Ms. Aoife Ní Fhearghail, Head of Foreign Policy and Strategic Affairs at the Irish Embassy
M. Gérard Hocmard Obe, Délégué Général of the Association "France - Grande-Bretagne"
Ms.Maria Doyle, Author, singer and "Marraine" of the Association "Voir ensemble"
Ms. Sophie Loussouarn, Professor of British History and Representative of the English Speaking Union
M. Emmanuel Lemoine, Co-founder and first Secretary General of the FDA in 1993
A big congratulations to the whole team for their achievement: 
Sacha Apelbaum
, 
Gabriel Bassat
,
Dariia Haryfullina
,
Mira Maamari
,
Yassine Machta
,
Capucine Rousset
, 
Alexandre Partensky
, et
Tien-Thinh Tran
.
2023 Final replay is available on Facebook
Reminder of the matches played previously
02/09 : THBT marriage is outdated ; Gov : ENS Ulm vs Opp : ENSAE Paris
02/17 : THB satire is dead ; Gov : ENSAE Paris vs Opp : IÉSEG
03/13 : THBT experts have the answer ; Gov : ENSAE Paris vs Opp : Université Panthéon-Assas Paris II
03/27 : THW rather be kind than smart ; Gov : Université Paris 1 Panthéon-Sorbonne vs Opp : ENSAE Paris
0406 : THBT convictions are more dangerous foes of truth than lies ; Gov : Université PSL - CPES vs Opp : ENSAE Paris