Econometric Game 2023: the ENSAE Paris team reaches the finals
Congratulations to the team made up of Jeanne ASTIER, Louis BRIENS, Gaëtan MÉNARD and Doulo SOW, who brilliantly reached the finals of the Econometric Game 2023!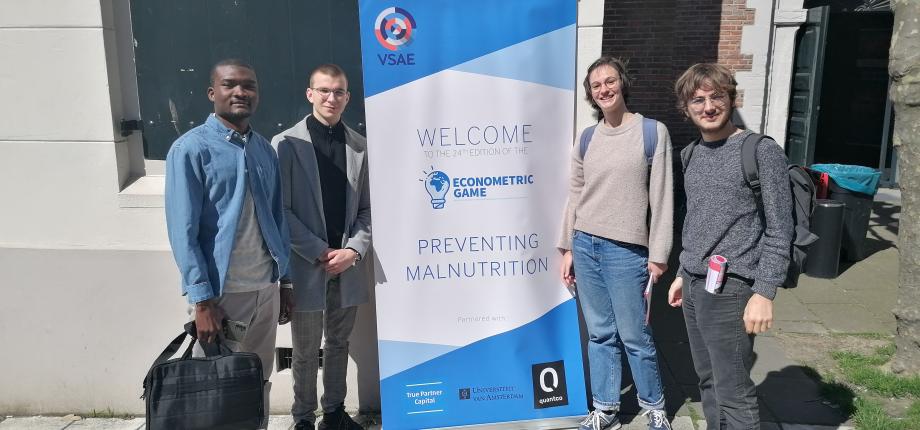 The Econometric Game is a prestigious event organized by the study association for Actuarial Science, Econometrics & Operational Research (VSAE) of the University of Amsterdam. Each year, the competition brings together around 30 teams of four students (including a maximum of two PhD students) from econometrics, mathematics and data science courses, from a wide range of countries.
The event starts with announcing the case topic to the students for the first time. Next, the teams spend the first 2 days working on the case. After careful evaluation by the jury, only 10 finalists remain to solve the last and most challenging part of the case on the third day. The winner of the Econometric Game will be announced during the last evening and the winning team takes the trophy home.
This year, the casemaker, Chintan Amrit, decided to bring students' attention to the pressing matter of malnutrition in Africa.
Cette année l'attention des étudiants a été mise sur la question urgente de la malnutrition en Afrique. The creativity and excellent work of the ENSAE Paris delegation enabled them to qualify for the finals, but the winners of this 2023 edition were the team from the University of Warsaw. Well done to ENSAE for this brilliant achievement!
It was a real challenge to produce a complete project in such a short space of time! We were as productive as ever. It was also an incredible opportunity to exchange ideas with students from other international universities!
Jeanne ASTIER
It's a great experience that allows you to meet many students who share ENSAE's strange love of econometrics!
Gaëtan MÉNARD
Participating in the Econometric Game is a unique and very rewarding experience, both intellectually and relationally. We were able to exchange and learn from some of the best students and PhD students from all over the world.
Louis BRIENS
Making it to the finals of the World Econometric Game was quite an achievement. And all this while working on topics related to poverty alleviation. Overall, I learned a lot from other students from around the world. I am proud of my team!
Doulo SOW