Employer branding partnership
Thanks to its knowledge of the students, whom it accompanies throughout their training in the preparation of their professional project, the corporate relations and internship department assists you with all your recruitment problems, from legal advice to administrative procedures, as well as in the development of a tailor-made action plan to meet the right talents.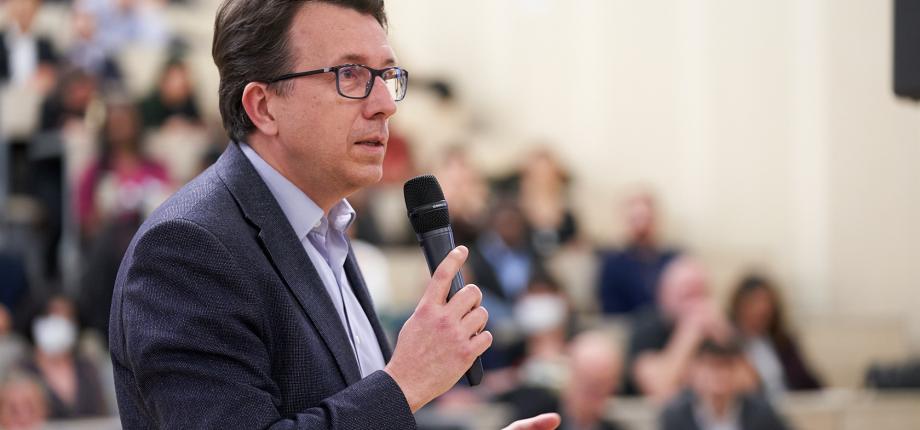 ENSAE Paris offers partnership opportunities to enhance your brand and recruit.
How can you make yourself known?
Promote your business and your organization
All year round: organize company visits (2nd and 3rd year students), thematic meetings and in-situ exchanges with your employees
All year round: participate in the "Rencontres Métiers" on Tuesdays
Make your culture and projects known
Every week: communicate on your events via the newsletter of our career center
10 meetings per year: participate in round-table discussions on issues related to your sector, in conjunction with student associations and alumni
Sponsor our students
Sponsoring a class and participating in ceremonies (gala, graduation)
Contact with our student associations: financial support or participation in the actions set up
Make your culture and your projects known
All year round: access the career center's CV Database
All year round: publish and promote your internship offers on our career center
All year round: benefit from our team's support to improve the quality of your recruitments
November: participate in the TRIUM Forum organized by the Forum association, with the Mines, the Ponts and ENSTA, the major student-business event (200 companies, 4 organizing schools, round tables, breakfasts and conferences)
Focus on three brand-employer partnerships
Sponsorship of promotions allows you to establish your employer brand in the long term and to facilitate recruitment. Within the framework of this partnership, we propose the following actions:
Highlighting of your internship and job offers
Highlighting the partnership on our communication media
Participation in Tuesday job fairs
Highlighting of your career and network events (newsletter)
Collaboration and maximum visibility of your brand on all our communication media
Company visit
Sponsorship of promotions
Communication and dedicated support for your teams
Within the framework of this partnership, we propose the following actions:
Highlighting of your internship and job offers
Highlighting the partnership on our communication media
Participation in the Tuesday job fairs
Highlighting of your career and network events (newsletter)
Collaboration and maximum visibility of your brand on all our communication media
Company visit
Within the framework of this partnership, we propose the following actions:
Highlighting of your internship and job offers
Highlighting the partnership on our communication media
Participation in the Tuesday job fairs
Sponsorship of promotions
Sponsorship of promotions allows you to establish your employer brand in the long term and to facilitate recruitment. Within the framework of this partnership, we propose the following actions:
Highlighting of your internship and job offers
Highlighting the partnership on our communication media
Participation in Tuesday job fairs
Highlighting of your career and network events (newsletter)
Collaboration and maximum visibility of your brand on all our communication media
Company visit
Sponsorship of promotions
Communication and dedicated support for your teams
Major partner
Within the framework of this partnership, we propose the following actions:
Highlighting of your internship and job offers
Highlighting the partnership on our communication media
Participation in the Tuesday job fairs
Highlighting of your career and network events (newsletter)
Collaboration and maximum visibility of your brand on all our communication media
Company visit
Partners
Within the framework of this partnership, we propose the following actions:
Highlighting of your internship and job offers
Highlighting the partnership on our communication media
Participation in the Tuesday job fairs
For any questions or additional information, contact corporate@ensae.fr