Tanguy Simeon, 1st year engineering student
Student in the first year of the engineering cycle, Tanguy was recruited via the Concours Commun Mines-Ponts (CCMP). He comes from a PC preparatory program at the Lycée Louis le Grand in Paris.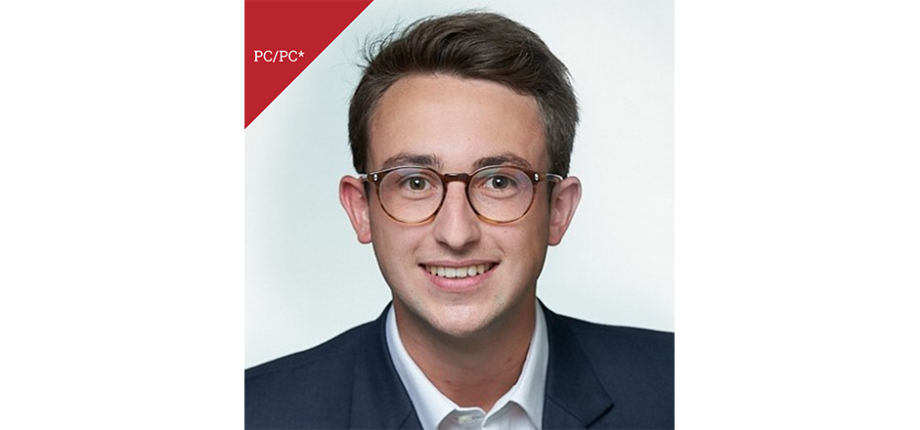 To help you see more clearly the training offer proposed by ENSAE Paris, students share their experience. 
1. WHY DID YOU CHOOSE TO ENTER ENSAE PARIS?
After a preparatory course in the PC stream, I chose to enter ENSAE Paris because I wanted to pursue mathematics at a very high level, while discovering subjects that made more sense to me than physics and chemistry, namely economics and data science. The school also offers a wide range of double degrees with the most prestigious business schools, but also with the most prestigious English and American universities. I therefore chose ENSAE over other schools such as ENSTA or Telecom Paris for its openness to new opportunities, as well as for its diversity. 
2. WOULD YOU RECOMMEND THE ENSAE PARIS PROGRAM? IF SO, FOR WHAT REASONS?
The academic training provided by ENSAE is very rich. Indeed, in addition to the acquisition of very solid foundations in mathematics and computer science, the "new" subjects (economics, statistics...) are taught with great rigor. Moreover, ENSAE students come from many different backgrounds (scientific, economic, literary) and arrive with their own strengths and weaknesses in the various fields studied. Thus, mutual aid is a fundamental point at ENSAE and allows the progression of the whole class.
3. WHAT IS A TYPICAL WEEK LIKE FOR AN ENSAE STUDENT?
It is difficult to talk about a "typical" week at ENSAE because no two weeks are alike. In addition to about 20 hours of classes, half of which are tutorials in small groups, the week is mainly punctuated by a very busy community life: sports, activities, parties... There really is no time to get bored. 
4. ARE YOU OR HAVE YOU EVER BEEN PART OF A STUDENT ASSOCIATION AT SCHOOL? IF SO, WHAT WAS YOUR ROLE AND WHAT DID YOU GET OUT OF THIS EXPERIENCE?
At ENSAE, every student is involved in an association, so the life of the school revolves around this world of associations. The associative life is very demanding, especially because you can be part of several associations at the same time. For my part, I am President of the BDE (Students Office) and a member of ENSAE Solidaire and the Oenology Club. This commitment takes a lot of time but is enriching and very professionalizing.
Associative activities are the key to ENSAE, because it is what allows you to discover other students and to really enjoy your years of study. 
5. IN YOUR OPINION, WHAT ARE THE THREE STRONG POINTS OF ENSAE PARIS? 
I think the three strong points of the school are its diversity and the double degrees offered, as well as the quality of the courses given by the teacher-researchers. 
6. WHAT ADVICE WOULD YOU GIVE TO THOSE WHO ARE STILL WONDERING ABOUT THEIR ORIENTATION AND ARE NOW IN THE PC/PC* PREPARATORY PROGRAM? 
After the competitive exams, I hesitated a lot between ENSTA, Télécom Paris and ENSAE Paris. My teachers strongly advised me to choose the first two because they were better ranked among the engineering schools. However, ENSAE was the school that allowed me to move away from physics and to open up to other opportunities. And although ENSAE is less "famous" than other schools, the degree is very well recognized at the professional level and offers very broad career opportunities. That's why today, when discussing with students from other schools, I think that the best decision was not to listen to my teachers and therefore to enter ENSAE Paris!